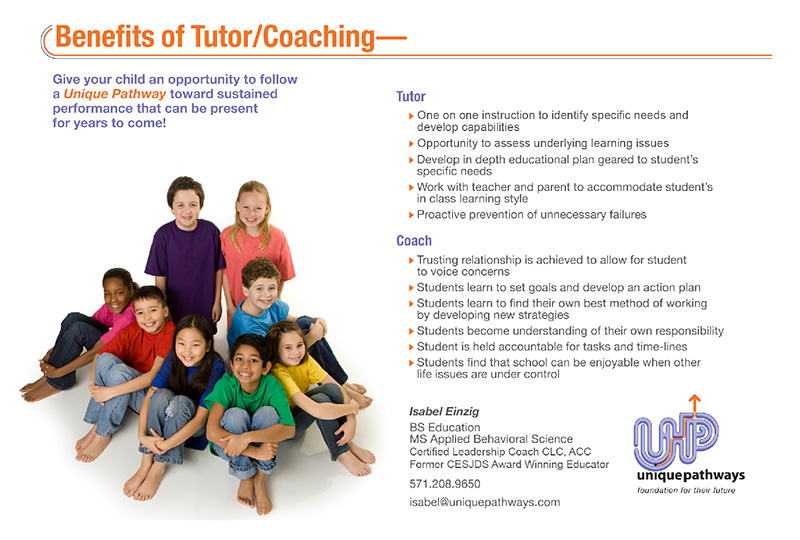 What is a coach?
A child's definition:
Someone who helps me and my team learn techniques to be the best
Someone who inspires our team to work hard to win the game
A coach teaches us to get along with each other
A coach shows us that we can do things we may think we can't
My coach teaches me how to relax before the game
Coaches help us understand that we must work as a team
"My coach helps me work as hard as I can to get where I want to go."
-Michael Phelps-Olympic Swimmer
Coaches have questions for your child's answers.
When Andrew, who had learning disabilities, and I started meeting, he was having difficulty in communicating his feelings: about school issues, family issues and social interactions. With powerful, insightful questioning, Andrew was able to accept who he was and work on being who he wanted to be. We worked on subject matter he had difficulty with, and also entered into a trusting relationship, with humor and compassion. Our interaction and his behavioral activities helped him understand that his disabilities could be a benefit, not a deficit, as he was feeling. Andrew became aware of his responsibility to be his own advocate. We worked on communicating his needs and concerns in such a way that others would want to listen. He also knew the importance of being a compassionate listener to others' needs as well.
Andrew:
Developed self-esteem
Started to make good choices
Began to manage his time
Overcame anxiety relating to mistakes
Became accountable and responsible
Began to look at being goal oriented
Give your child the skills NOW!!
I can empower your child to achieve all that Andrew did and more.
Work with me, a tutor/coach who is an award- winning educator and ICF (International Coach Federation) Certified life and leadership coach. I understand the challenges often faced by children and the frustrations faced by their parents. I too have been in your shoes. I can guide your children to develop actionable new habits.
"The world will teach our children if we do not, and children are capable of learning all the world can teach them at a very young age." -Rosemary M. Wixom
Learn how you can give your child the gift of a Tutor/Coach Approach as a foundation for his/her future.